It was an all too familiar sight. 26 minutes into Ayr United's match against Airdrieonians on Saturday defender Martyn Campbell crumpled to the Somerset Park turf. After a cursory assessment from the physio, the 32 year-old was replaced by Alan Forrest (a player half his size and half his age) and a defensive reshuffle ensued. It was the second such instance this season. In the League Cup at Firhill, United's second match of the season, Campbell jogged off the park after only 22 minutes with a calf strain that ruled him out of Ayr's league opener at Arbroath.
The latest injury, a hamstring complaint the full extent of which is still to uncovered, prolongs Campbell's injury woes, confirming another false dawn and poses significant questions over his continued involvement in Ayr's starting line-up this season.
Signed in July 2005 from Irvine Meadow, Campbell has made 184 appearances for the Honest Men, averaging over 20 games per season. The statistic hints at the numerous lay-offs which have blighted his time at the club.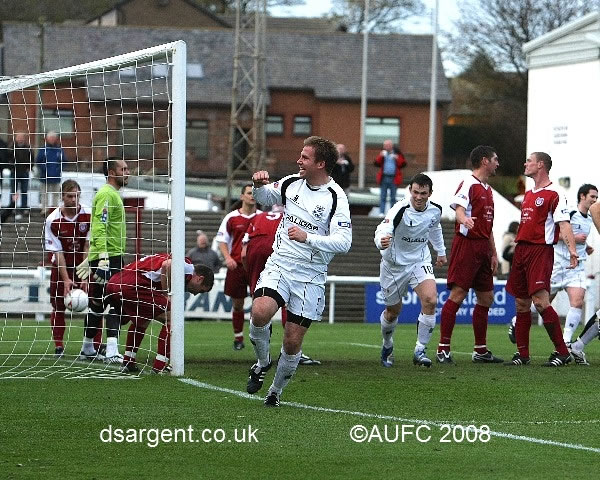 Campbell nets the first of his three goals for the club at Gayfield
Campbell played 23 and 21 games in his first two seasons at Somerset Park, absent only for short spells in September 2005, March/April 2006 and again in September 2006. His second season, however, was curtailed by injury and that would signal nearly nine months out. An attempted return in December 2007 the following season saw him limp off after only 8 minutes of his second comeback game, and it was March 2008 until he returned.
The following season saw Ayr United promoted via the play-offs and Campbell played a key role in the side's success, playing 37 matches, missing only seven matches through injury. He even weighed in with his first goal for the club, away to Arbroath in November 2008. The season was not without disruption, however. Campbell was substituted eight times, on five occasions before the start of the second-half and missed matches in September (a month which appears to be particularly troublesome) and February.
Elevated to the First Division for the first time in his career, Campbell endured a disruptive start to the 2009/10 season. Substituted in both traditional cup openers, including after 25 minutes against Stirling Albion, it was September before he first featured in the league. Another injury in November (Campbell limped off after 10 minutes against Queen of the South) kept the defender out until the end of January. In his return to the side he was unable to prevent United's relegation, despite being a key figure in a remarkable eight-match unbeaten run between mid-February and mid-March. That run came to an end in a crucial mid-week match at Cappielow. Campbell was forced off after 48 minutes and Ayr went on to lose the match and seven of their remaining eight matches.
United, and Campbell bounced back from that disappointment by securing an immediate return, again via the play-offs the following season. Again Campbell was a mainstay of the side, making 40 appearances in side that had the rare luxury of a generally settled back four. Unfortunately, he has been an largely unreliable figure ever since.
Season 2011/12 saw Campbell start the season with a rare goal (only his third for the club) against Queen of the South in the Challenge Cup on the opening day of the season, a match that went to extra-time. Three games into the league campaign he was involved in an almighty contest with Falkirk's Morrocan striker Farid El Allagui. The match and the personal duel between Campbell and El Allagui was thrilling: the Morrocan won the contest – Campbell was sent off for a crude challenge on his adversary after 73 minutes – but the game was drawn. Four days later, Campbell lasted only 10 minutes in United's impressive League Cup victory over Inverness at Somerset Park.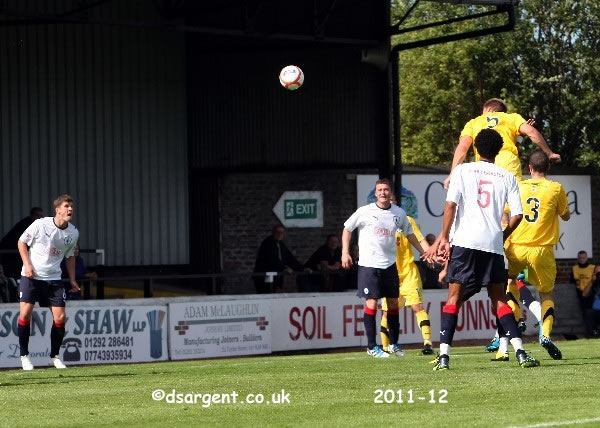 Martyn Campbell jumps higher
After sitting out one league match through suspension, Campbell was back for two consecutive away games, at Partick Thistle and Morton in mid-September. He, and Ayr, toiled, conceding four goals in each match. Campbell went on to miss the next 16 league games. Playing through a painful knee, Campbell went into hospital in October for a routine operation but surgeons found significant cartilage damage that was to keep him out beyond January. The last two months of the season were particularly frustrating, with Campbell in and out of the side. In total, Campbell made 12 starts in an unhappy season as the Honest Men were relegated, at home, by Airdrie United in the play-off semi-final – one of only eight games Campbell played for the full duration.
Worst was to come last season, Mark Roberts's first in charge. Not risked on Ochilview's artificial surface in the Ramsden's Cup Campbell strolled through Ayr's 6-1 demolition of Clyde and was still on the field when Ross McMillan grabbed a last minute equaliser for Stenhousemuir in the first league game of the campaign. Campbell was named in the starting line-up at Gayfield in the following game – but did not play. A twinge felt in the warm up saw Mark Shankland take his No. 4 shirt and a wholesale reshuffle of the team. Campbell played just 10 more minutes, an early substitution (just like versus Inverness the preceding season) ended his involvement against St. Mirren, and for the rest of the season.
Campbell's season ended after just 3 games last season
It is to Campbell's immense credit that in November last year he told the club to effectively
rip up his contract and stop paying him
, as he underwent another knee op. Speaking at the time, Campbell said:
"I don't want to take anything while I can't give anything back.
"I would rather they used my wage to bring someone else in. I love the club and want to see Mark Roberts do well so hopefully this will help.
"Ironically, I've been in my best shape for years apart from the left knee which has a chipped bone. I'll have the operation, then begin my rehabilitation and take it from there.
"I've no thoughts of packing it in and am desperate to be playing."
A return to first team action before the end of the season was
hinted at
in January, with Campbell again maintaining that he was physically in the best shape of his career… apart from the knee. He was one of three players invited back to pre-season to 'prove his fitness' but strangely didn't feature in Ayr's trip to Leigh to face Romanian opposition (it was suggested that Campbell was instead in Florida). The only game time Campbell had pre-season was during two low key friendlies at Cumnock (where he played 35 minutes as a second-half substitute) and Kilwinning. Mark Roberts was quoted as saying:
"It has been a long road back for Martyn but there is definitely light at the end of the tunnel now".
That light appears now to have dimmed. Which is an enormous shame as, alongside Alan Lithgow, Ayr United had found a no nonsense centre-back partnership which was shaping up to be one of their best for a long time. While perhaps not the most mobile, the side strolled to wins against Queen's Park and Forfar with the pair in-situ – conceding only a penalty at Hampden when the ball came off Gordon Pope's arm. In that game, one particular moment in the second-half where he made a timely intervention to prevent the Spiders going 2-0 up hinted Campbell was back to his best.
Alas, it seems not to be the case. In the wake of the Partick Thistle match Roberts suggested that it was natural Campbell would pick up 'wee niggles' after being out for a year but admitted he could no longer rely on the man they call 'Bobo'. "We'll get big Bobo fit sometime in his career." Roberts said, not without a degree of optimism.
This may indeed just be a 'wee niggle' for Campbell, but Roberts must now learn the lessons of previous campaigns and bring in a reliable defender to partner Lithgow. The manager failed to address this problem last season, instead moving Austin McCann into centre-back and signing Marc Twaddle. It was an unmitigated disaster. Two central-defenders were eventually signed in January, Chris Smith and Neil McGregor but neither lived up to their reputation. Anyway, it was arguably too late to salvage a dismal season.
The impacts of Campbell's fragility are not only felt over the course of a season, but losing Campbell early on in games has been a regular hindrance. In almost 10% of the matches Campbell has started for Ayr he has been substituted before the second-half has kicked off. This invariably has a detrimental impact on the side, evidenced as recently as Saturday when his injury led to Gordon Pope moving in from left-back, Michael Donald dropping from left-midfield to left-back and Alan Forrest coming on at left-midfield. Without Campbell – or a direct replacement – Airdrie were able to equalise and for the remainder of the first-half United looked uncertain in a match they had been dominating. Regardless of whether Roberts is going to put his faith in 17 year old John McArthur (who has performed reasonably well when called upon but wasn't selected even for the bench on Saturday), a new centre-back is a necessity.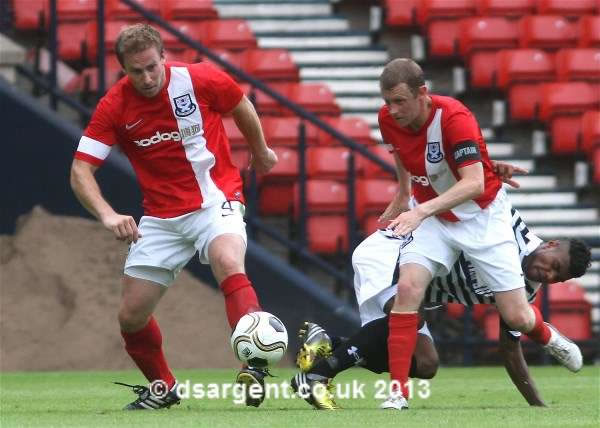 Bobo looked to be back to his best vs. Queen's Park
Many would have thanked Campbell for his efforts (and not to mention his gesture to go unpaid) at the end of last season and moved on and there is a danger that this recent injury episode serves to prove them right. Unfortunately, it is impossible to assess Campbell without reference to his injury record and reliability. Next season would be Martyn Campbell's 10th at Somerset Park, a long-service record few players achieve in the modern game. It would be great if he could come through this season – and a rigorous pre-season – to earn another contract. There is no doubt Campbell is a good defender, solid in the tackle, strong in the air, experienced...
...when fit.
Martyn Campbell's Ayr United career stats: