This blog's
last entry
– some six months ago* – was written before Ayr United, under new manager Mark Roberts, had played a competitive fixture. While it was cognisant of the dangers of reading too much into pre-season matches, it reflected on a series of results and performances (including a comprehensive win over Motherwell a and credible draw with Bolton Wanderers) which gave cause for an upgrade in the usual pre-season optimism. Some bookmakers even saw fit to install United as the title favourites.
Roberts had his new look squad playing possession football, passing the ball short and at speed and his new recruits appeared a perfect fit for the player-manager's vision, each comfortable in possession. While some concerns remained around the defence; particularly goalkeeper Ally Brown; a lack of width in midfield (although this was countered by the attacking play of Ayr's full backs); and squad depth, the attractive and attacking football had a feel good factor envelop Somerset Park.
This was to quickly dissipate.
A humiliating 3-1 defeat away to East Stirlingshire on the opening day of the season was countered by a tantalising demonstration of the way it was supposed to work. Clyde were routed 6-1 but, after conceding a last minute equaliser to Stenhousemuir at Somerset Park, Ayr went on to lose four of their first five league matches. A 2-0 reverse at Stair Park saw the Roberts and his players return to the sight of Somerset Park festooned with a banner giving a blunt assessment of their efforts.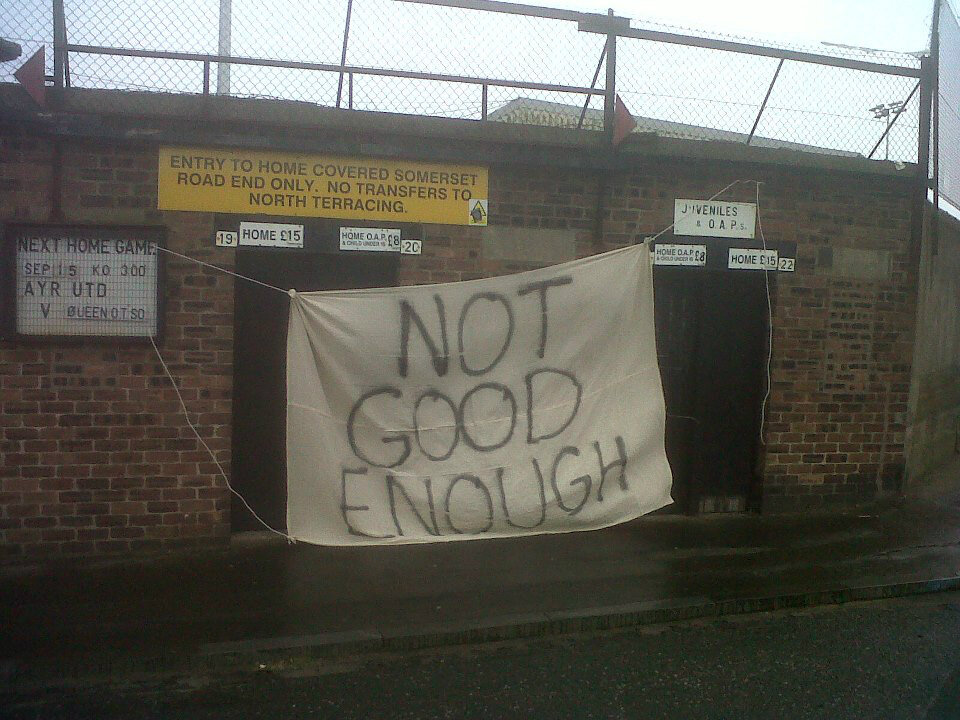 Fans showed their displeasure after just four league games

Sixteen points from the next 21 available served to turn down the heat on Roberts but performances failed to convince: two of Ayr's five wins in that run of results – against bottom sides Albion Rovers and Stranraer required last minute penalties. Even a 3-0 win over Brechin City, achieved with ten men, could be downplayed in hindsight by the paucity of the opposition. Ayr, for all but the briefest of glimpses, struggled to recreate the football demonstrated in pre-season.
The season's nadir (just shading the defeat at Stranraer) came at Cliftonhill on Boxing Day. In themselves, the surroundings served as a sobering reality check but nothing compared to the performance on the field. A lethargic, hapless, rabble took to the pitch in white shirts that day, seemingly without a game plan to break down a very limited side and at full time Roberts became embroiled in a heated exchange with a supporter.
Ayr
were meant to have turned the corner but the 2-0 defeat represented a fourth consecutive loss and, just three points from the foot of the table, Mark Roberts was back to square one, his position under intense scrutiny. There has been no
significant
improvement in results since then, either, with just one win and three draws from six games.
The reason for Ayr United's position does not require over analysis: defensively they have been very poor, as discussed in more detail in mid-September. Because of injury (rather inevitably to Martyn Campbell and John Robertson), departures (Tiffoney) and arrivals (McAusland and Twaddle) and Roberts' attempts to find the right balance, Ayr's defence at the start of the season was in a near constant state of flux. Unfortunatly, this did not resolve itself when a more regular back-four of McAusland, Brownlie, McCann and Twaddle was deployed.
The defeat – and aftermath – to Albion Rovers did seem to create the crisis situation
Ayr
's position deserved. The manager took the unprecedented step of
calling for supporters to rally round
. That interview mentioned the number of young players featuring for Ayr this season. Indeed against Rovers six players under the age of 20 were on the field together for the majority of the game, but in truth it has been the more senior players, brought to the club by Roberts (and mostly former teammates), who have disappointed this season. United's best and most consistent performer has been 18 year old Robbie Crawford, without question.
Roberts also warned fans that there would be no quick fix. "We're not one of those clubs that can throw £500 at a new player... I do not want to moan about budgets though". However, one month on and throwing money at new players was exactly what Roberts was able to do. A
£7500 sponsorship
from the Club's 'development partner' has been, quite incredibly, been usurped by an additional £20000, and rising, thanks to the
fundraising efforts of Somerset Boab
(including sizeable donations from Chairman Lachlan Cameron and sponsors Bodog).
Unquestionably the money, to be used exclusively to boost playing budget, is a huge fillip to Mark Roberts and very welcome.
However, a note of caution. With the cash windfall comes a significant pressure – and the undermining of a huge excuse for Mark Roberts. Ayr United's results simply must improve in the remaining three months of the season. If they do not, Roberts has very few places left to hide when it comes to pointing the finger of blame. Any attempt to plead poverty (already a questionable line of argument when compared to Ayr's Second Division rivals) will simply not stand up to scrutiny. With a contract in place for next season, Roberts' position is relatively secure but he will do little to enhance his reputation, or convince the doubters, if Ayr cannot finish the season strongly.
Adding to the pressure upon Roberts is that signing players in January, especially those with experience as required at Somerset Park, is not easy. The quality of the three players signed – Neil McGregor and Chris Smith, out of favour at Dundee and Falkirk respectively, on loan and striker Liam Buchanan, who has returned from Ireland's summer season – is therefore pleasing. In particular, McGregor and returning hero Smith are both the dominant centre-half type the side has been missing since as far back as August, when Martyn Campbell again broke down. Roberts was well aware of this deficiency, but was clearly unable to address it. Various combinations of McCann, Robertson, Brownlie and McAusland have all failed to convince.
There has been some improvement in recent weeks, arriving from a change in formation. Earlier in the season Roberts played 433 and 4312, largely due to the lack of natural wide players at his disposal (Micheal McGowan could have made a real difference this season, alas his signing appears to have been folly. McGowan managed only 237 minutes before succumbing to the knee injury he seemingly hadn't recovered from). The signature of Micheal Donald, a natural left sided midfielder, has allowed Roberts to play a more traditional 442 in which the players look more comfortable and the side more balanced. Donald, whose last club was Maybole Juniors, seems an unlikely kingpin but impresses with every game.
The big question is what are Ayr's expectations now? The assumed level of expenditure demands that simply avoiding relegation will not be good enough (not that it ever was). And hence aspirations of a promotion play-off spot are raised. With 15 league games to play, the Honest Men, in eighth, are nine points off 3rd position. The matter is further complicated by the potential value of two games versus Rangers in the Second Division next season and the, yet unclear, implications of league reconstruction. Regardless, Mark Roberts needs to quickly start winning games. Whether this enables a genuine tilt at promition is not of primary concern.
McGregor, Smith and Buchanan showed glimpes of their value at Alloa on Saturday, but again Ayr threw away a two goal
advantage, managing only a draw. This, more than anything, has been the side's
bête noire
this season -
23 points have been dropped for a winning position. Mark Roberts' managerial career is dependant on seeing some tangible return on the money, a large proportion of it from the pockets of supporters, at his disposal. If not, that money will fuel the fires that say he is not the right man for the job.
* I hadn't completely given up writing about football, contributing periodicially to the excellent Tell Him He's Pelé site - the place for thought and insight on the Scottish Football League. Take a look if you haven't done so already
.